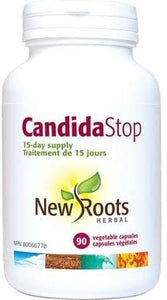 90 Vegetable capsules.
Each vegetable capsule contains:
Caprylic acid (calcium caprylate)
90 mg
Caprylic acid (magnesium caprylate)
90 mg
Odourless garlic (Allium sativum) bulb extract, 1% allicin
62.5 mg
Oregano (Origanum vulgare) leaf extract, 30% carvacrol
55 mg
Grapefruit seed extract*
50 mg
Suma (Hebanthe eriantha) root
50 mg
Echinacea (Echinacea purpurea) root extract, 4% polyphenols
25 mg
Pau d'arco (Tabebuia heptaphylla) inner bark
25 mg
Caprylic acid (zinc caprylate)
20 mg
Black walnut hulls (Juglans nigra) 4:1 extract
8 mg
Selenium (from yeast-free ʟ‑selenomethionine)
25 mcg

Other ingredients: Vegetable magnesium stearate and silicon dioxide in a non‑GMO vegetable capsule composed of vegetable carbohydrate gum and purified water.
*Combination of natural extracts of grapefruit, lemon, and tangerine seeds.